Agression is a very dangerous fighter, with a powerful energy ball launcher simular to the
Ravager
, and a powerful cannon (same as that from the
Siege ripper
) So this can do a lot of damage and take it as well, as it's name suggests this piece is made for agressive attacks.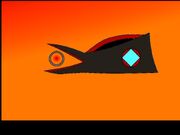 Agression

Damage

(main) Very high, (Mega cannon) MASSIVE, (Mega cannon vs buildings) EXTREME

Fire rate

Slow (Main), Go make a sandwich (Mega cannon).

Speed

Slow/Medium

Health

Very high

Special effect

Very fast moving progectiles,fire bonus, very accurate

Cost

VERY HIGH
Ad blocker interference detected!
Wikia is a free-to-use site that makes money from advertising. We have a modified experience for viewers using ad blockers

Wikia is not accessible if you've made further modifications. Remove the custom ad blocker rule(s) and the page will load as expected.