The constructor is a component in making "outposts" because it can make troops/ships with the main green beam on top, with the blue beams to protect the constructor.
Constructor

Damage

Average

Fire rate

Average/High

Speed

Actually quite fast seeing as the earth it's embedded in is rotating at quite a fast rate but for all intents and purpouses: No

Cost

High

Special

Can build troops and defend itself instantaniously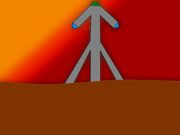 This was going to become a pure defencive turret, with the green laser being the primary, more powerful beam weapon.
Ad blocker interference detected!
Wikia is a free-to-use site that makes money from advertising. We have a modified experience for viewers using ad blockers

Wikia is not accessible if you've made further modifications. Remove the custom ad blocker rule(s) and the page will load as expected.