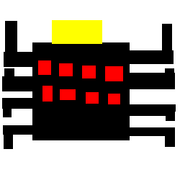 This is King Spider. There is 1 King Spider for the boss in level 2. There is
1 King Spider and 2 yellow Disguised Spiders for the boss in level 3. There
is 1 King Spider wearing a helmet and 2 pink disguised spiders for the boss
in level 6. There is 1 King Spider and 1 King Spider wearing a helmet for
the boss in level 8. There are 2 wearing helmets for the boss in level 10.
There is 1 King Spider wearing a helmet and 2 purple disguised spiders
for the boss in level 12. There are 2 King Spiders wearing Broze Helmets for
the boss in level 15. There is 1 King Spider wearing a Bronze Helmet and
2 Green Disguised Spiders for the boss in level 17. King Spider attacks you
quickly. King Spider wears a crown on his head. He has sharp hands that
can cut you and make you bleed. Endermen are able to defeat King
Spider with no help. You can use endermen to defeat King Spider.
Ad blocker interference detected!
Wikia is a free-to-use site that makes money from advertising. We have a modified experience for viewers using ad blockers

Wikia is not accessible if you've made further modifications. Remove the custom ad blocker rule(s) and the page will load as expected.