RWTA stands for RwT Adventures and you will go to different levels. 
Level 1- The Cave of Annoying Stuff
Level 2-Thief Hideout
Level 3-Village Gates
5-DwC 's house
6-BwW 's house
7-SwP' s house
8-RwT 's house
9-The Mayor's house
MORE LEVELS COMING SOON!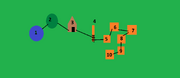 Ad blocker interference detected!
Wikia is a free-to-use site that makes money from advertising. We have a modified experience for viewers using ad blockers

Wikia is not accessible if you've made further modifications. Remove the custom ad blocker rule(s) and the page will load as expected.