The much more powerful and more costly version of the Fear bomber, they are identical however this fires fully armed missiles, that shatter into clusters, leveling massive areas at a high rate.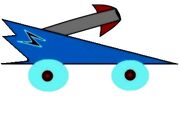 Storm bomber

Health

High

Speed

Low

Damage

Massive

Rate of fire

High

Accuraccy

Low

Cost

Massive

Special

Shatters into explosive clusters, covering a large area.
Ad blocker interference detected!
Wikia is a free-to-use site that makes money from advertising. We have a modified experience for viewers using ad blockers

Wikia is not accessible if you've made further modifications. Remove the custom ad blocker rule(s) and the page will load as expected.